A life-changing experience
Volunteering at Sacred Heart Mission's op shops is a flexible, fun and engaging activity to give back to your community. It's a great way to …
Develop customer service and retail skills,
Connect with the people in your neighbourhood,
Meet new friends, and
Help us raise funds for our programs and services.
Become an op shop volunteer
Our stores are open seven days a week and heavily rely on the ongoing support of volunteers to assist with the sale of goods, customer service, visual merchandising and stock replenishment.
If you have knowledge or interest in a particular stock item or are passionate about fashion, books or anything in between, we would love to hear from you.
Check out our current volunteering opportunities here and apply:
How our op shop volunteers are making all the difference in our community
Join our op shop family
We talked to six op shop volunteers about their volunteering experience. Hear what Olivia, Julie, Arian, Duong, Hilary, Carol and Paul have to say – and why they recommend you joining our op shop family:
Olivia: I think volunteering is important, especially for organisations such as Sacred Heart Mission, because it allows them to exist.
Julie: Volunteering is so important to me as a single mother and a self-employed person. So for me to be able to spend a few hours giving back to the community is a great thing.
Olivia: I originally started volunteering in the Elsternwick op shop because it was my local op shop. It was just such a nice place to be. Everyone wanted to be there. Everyone was really welcoming and passionate about what they were doing.
Adrian: You get all sorts of characters coming in from overseas, a lot of backpackers, and there's an eclectic bunch of people that live in the neighborhood here with unusual haircuts and their fashion sense.
Duong: Normally I come in at 10:00 AM and then I ask for the manager to give me some tasks. And then most of the time I hang the clothes, tagging, and then taking them out to the store and people can start to buy them.
Hilary: I do four hour shift and I spend most of my time on the floor. Sometimes I do the cash register, but most of the time I'm putting more things on the racks, tidying up the racks, tidying up the shoes.
Carole: It's a great way to keep yourself involved in your local neighborhood. Brunswick Street is the most fantastic street – it's just full of surprises. The biggest surprises is this shop, it's great. It's just the best.
Olivia: I think volunteering has changed me in a lot of ways. It's introduced me to a lot of people that I otherwise wouldn't have interacted with or gotten to know.
Hilary: I really think that this will be something I'll do for many, many years to come.
Julie: Volunteering – just do it. It's fantastic. Makes you feel good.
Paul: It gives you acceptance. It gives you an inclusion. It gives you confidence. It's a real thing. And if you put something into it, you'll get something back in tenfold.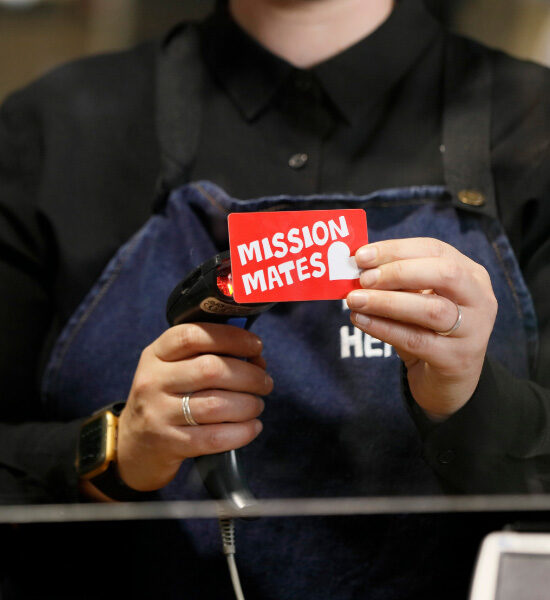 Mission Mates Loyalty Card
Sign up at any store to become a loyalty member and receive huge rewards at our op shops.
Earn rewards points, 1 point = $1 and 200 points = $10 voucher
Special discount of 10% off on your birthday
Exclusive information about discount sale events
Invitations to special events, pre-sales and grand openings
How can I become an op shop volunteer?
We are always looking for volunteers to help out in our op shops.
To apply, visit your favourite store and enquire at the counter – or learn more about op shop volunteering and check our volunteering opportunities here.
Who do I help by volunteering?
Sacred Heart Mission is sustained by a deep pool of generosity and support from the community. This ensures we can continue to develop and innovate into the future, offering greater choices and integrated services so people can have the benefit of carefully tailored support to addresses their individual needs.
How long do I have to commit for?
Due to the costs involved for us as an organisation in getting new volunteers inducted, we generally ask for a six-month commitment. However in certain programs we do have some more flexibility to take on shorter term volunteers. Once-off volunteering can only be done as part of the fundraising team or as part of a group that is supporting us.
What is the minimum age for volunteering?
The minimum age for volunteering is 15. Teenagers can volunteer in our op shops individually (Prahran (Chapel Street), Hawthorn, Fitzroy and Bentleigh) and also at the Meals Program (through school volunteering), where you will be part of a group. To volunteer in other areas, you must be 18 years or above.
Do I need to do a police check?
All volunteers need to have a National Police Check that is no older than three months. Sacred Heart Mission covers the cost of your Police Check. We just need to sight your original ID or your certified copies.
Will I receive training?
On your first day as a volunteer you will receive an induction to your role by the relevant coordinator. All new volunteers will be asked to complete online training modules, which will depend on your role. Completing the online modules is a compulsory part of your volunteering.
Read our latest op shop news and stories
Don't miss a beat
Learn more about homelessness and how we can solve it together in our monthly newsletter, Heartbeat